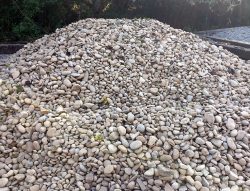 R & R Portable Storage offers a wide range of different types of landscaping stone products that can help you meet all of your landscaping goals. We are the most trusted source for decorative rocks in Pennsylvania.
We offer prompt and reliable delivery services for all of our landscaping products, including our landscaping stones. Whether you're looking for simple paving gravel or a massive decorative boulder, we can help you make your dream yard become a reality.
Types of Stone Products
We are proud to offer one of the most extensive inventories of landscaping rocks in Pennsylvania. We can provide you with a wide range of different stone products, including:
River stone:
We sell river stone in several different sizes, including ½-inch, 1½-inch, 3 inches and 6 inches. Our high-quality rivers tone is both sophisticated and simple.
Ocean stone:
We offer ocean stone in a wide variety of sizes and colors. Our high-caliber ocean stone is elegant, and can bring a touch of the sea to your home.
2B stone:
This clean-crushed rock is perfectly suited for use in drainages and other overly soggy areas of your property. You can use 2B stone both for paving and landscaping purposes.
Decorative boulders:
If you are looking for a way to live the large life, you should consider investing in one of our decorative boulders. We can provide you with a rock that really makes a statement.
Driveway stone:
We also sell driveway stone, meaning that we can provide you with the tools you need to safely and effectively pave your space. Our driveway stone is long-lasting and high-quality.
Invest in Stone
Take your landscaping to the next level, and invest in high-quality, natural stone for your garden space. Call R & R Portable Storage today at 717-692-4646 to learn more about our extensive inventory of premium landscaping supplies. We're happy to help you select the type of stone that accentuates and enhances your space.